Be part of an innovative, talent team. Be valued. Be rewarded.
Employee Benefits - We believe in providing our staff with a work environment that encourages them to grow professionally but also recognises their need for work-life balance.
Training and Development - Training and development of our staff via formal and informal training, as well as on the job training, is widely supported at the City. The provisions regarding this benefit are included in the City's enterprise agreements.
Health and Wellbeing - The City has an extensive and ongoing commitment to providing a supportive environment for the health and wellbeing of staff. This includes, but is not limited to: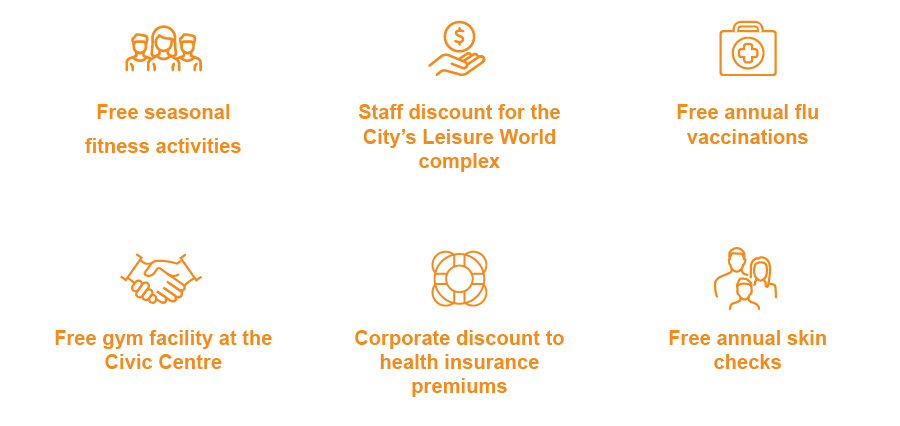 Work-Life Balance Program -
Many forward-thinking organisations are reaping the benefits of work-life balance for their employees. Working together, we can fulfil our vision of enhancing our economic performance while at the same time improving the work-life balance for individuals. This is about imagination, not legislation. The City acknowledges the importance of life outside of work and endeavours to promote a family-friendly workplace. Whether our employees have caring responsibilities for family members (school-age children, older relatives or relatives with high needs) or themselves (study commitments or other development pursuits), they enjoy a work environment that values flexibility which in turn positively impacts their work performance.
By putting work-life balance at the heart of our corporate culture, the City of Gosnells is creating a flexible, competitive and respected organisation that reflects the needs and expectations of its workforce now and into the future.
Sense of Community - There is a strong sense of community within our workplace and this extends to helping people or organisations who require additional support through charity and donations. Annually, staff donate over $10,000 through workplace giving events such as casual dress days and morning teas.
Active Social Club - We are a social bunch and the Social Club coordinates a range of activities throughout the year and offers discounts for family attractions.
Pay and Superannuation - The City works hard to attract and retain the best staff. Pay benefits include a highly competitive salary and superannuation contributions, including extra council contributions to superannuation when employees make additional contributions to their own superannuation funds.